FREE ELECTRICAL SYSTEM DESIGN
Check out our victron starter template designs below and book your free consultation with the Roamer team.
Flat Pack Your Van Electrics
Roamer can create a bespoke electrical system design for you based on one of our Victron starter templates below. Simply pick the one which most closely matches your requirements and budget and then book a consultation time slot using the calendar below.
You can either stick to the template design or customise with as many changes as you need. We will then provide high resolution pdf wiring diagram for your system including cable and fuse sizing.
We will also provide a parts list and a quote for everything you need (minus any discounts earned). We can supply everything you need in one kit including batteries, inverters, chargers, solar panels, cables, busbars, switches and fuses.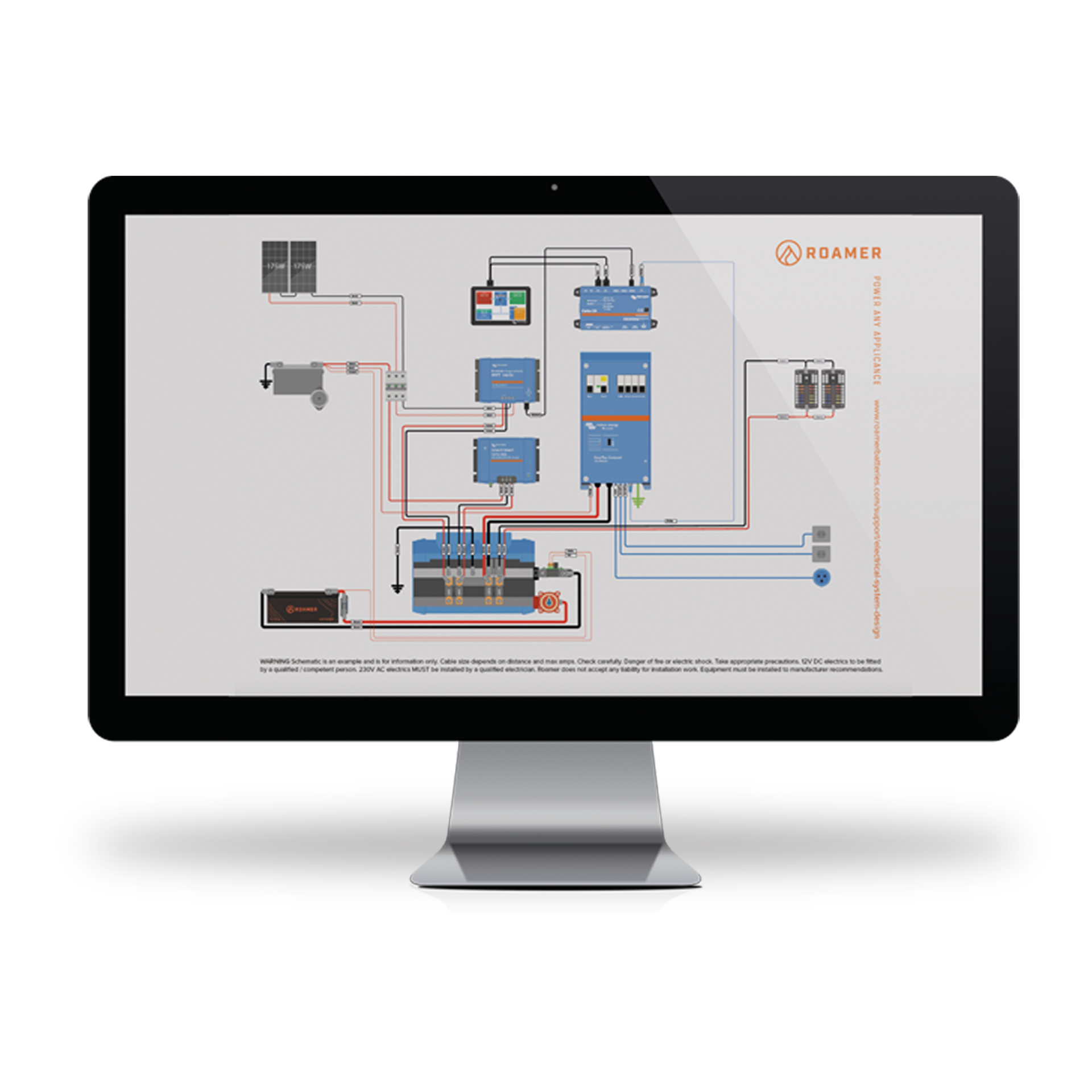 Tailored To Your Needs
Before you start, there are a few variables to consider below. Don't worry if you don't have all the answers but the clearer you are on your requirements then the easier it is for us to help
Camping style
Summer weekends at UK campsites or winter ski seasons?
Inverter
What 230V appliances do you want to run while off grid?
Solar
What is your available roof space for solar?
Alternator charging
What size alternator do you have? Is it 12V or 24V?
Monitoring
Bluetooth only, LCD screen or full touchscreen panel?
Budget
Whats your realistic budget spend?
Choose a Starter Template
Please choose the starter design which most closely matches your needs, before booking the system design consultation. Please note, these are low resolution files, provided as examples. The final design will be a high resolution, zoomable PDF with links to manuals, youtube videos and tips. Suggested average prices include all parts except the battery (solar, inverter, chargers, cables, fuses etc).
12V Off Grid System
A simple 12V off grid system that allows you to run 12V appliances from your battery. Solar and DCDC charger are included to top up batteries while off grid. A cost effective starter system that can be expanded at a later date. Average cost £1400
On and Off Grid
Similar to the simple 12V system but with an additional plug in mains charger to allow you to charge your batteries and wired 230V plug sockets while on hookup. Ideal if you regularly stop off at campsites but want to be off grid between sites. Average cost £1900
Power Small Appliances
A combined 12V and 230V off grid system that allows for up to 440W of solar and 30A DCDC charging .A Victron Multiplus allows for 230V power up to 800W, enough for small appliances such as laptops. Can also be used on a campsite for higher power. Average cost £2200
Power Any Appliance
A mid sized system using the Victron Easyplus 12/1600. This provides enough 230V power to run most appliances including microwave, slow cooker, travel hair dryer etc. The Easyplus is an inverter/charger with built in RCD/MCBs for a simpler install. Average cost £2700
Go Gas Free
Victron Multiplus 12/3000. If you're looking to 'go gas free' then this is the system for you. Deliver enough off grid power to run any 230V appliance including an induction hob. Victron Cerbo GX for remote monitoring and touchscreen control. Average cost £3700
24V High Power
A powerful 24V system based on the Victron Multiplus 24/3000, (or 5000) with up to 880W solar and fuseboxes for 12V and 24V appliances. Includes Cerbo GX for remote monitoring and control of your power, water and temperature devices. Average cost £4300
Please note: the images above are just samples, the final schematic will be a high resolution pdf with interactive links to manuals and user guides.


Terms & Conditions: This offer is redeemable for customers who purchased at Camp Quirky 2023. Trade accounts are excluded. The free schematic design is worth £120 and is not redeemable for cash. The Victron cash voucher will be equivalent to 10% of your original Roamer battery spend. This is not redeemable for cash. The offer is in addition to any pre-order offers and free delivery deals. If you do not want a schematic for a new system then as an alternative, we can provide a free 30 minute consultation and support with your existing installation.
Easy 14 day returns
Not entirely satisfied? Send it back within 14 days for a money-back guarantee.
10 year warranty
That's how much we believe in our product. A decade of powered adventures.
Ongoing support
We're all about community. Reach out to us any time - we're here to help.