Electrical Design Consultation
Our off grid electrical system design service will give you all the tools and support you need to install your own campervan, boat or house electrical system. We will talk through your requirements and help you choose the components you need, from inverters, chargers and solar panels down to cables and fuses. We will then create a bespoke detailed wiring schematic which will form the basis of your electrical plan, and supply all the parts you need in one simple kit. 
*SPECIAL OFFER* This design and support service is now FREE when spending over £1,200 with Roamer. Simply add qualifying items to your cart and the price will be discounted to £0. Alternatively, pay a £120 deposit now and have your consultation; this will be credited against your battery/parts invoice.
Video Consultation
A 30 minute call with a Roamer system designer to help size and choose all the parts you will need
Custom Wiring Diagram
Bespoke wiring schematics for all components including cable and fuse sizing
Price-Match Guarantee
All parts supplied and delivered as a custom kit, with pricematching on core components
THE EXPERTS IN OFF GRID ELECTRICS
A Complete Service From Start To Finish
The process begins with a video consultation to help us get to know you better and understand your requirements. We will help you choose all the components you need, size cables and fuses, and create a detailed wiring schematic which will form the basis for your electrical plan.
We will also provide a full quotation for all parts and provide a range of payment options. This a complete kit including solar panels, chargers, inverter, cables, fuses - we do it all! There is no obligation to buy but our quotes come with a pricematch guarantee so you can be confident you're getting the best prices possible, along with the best support.
Please note, the system design service is for new installations only, or those looking for a full retrofit. Unfortunately we cannot provide system designs for customers who already have most (or all) of their main components in place.
Planes, Trains and Campervans...
Motorhomes, narrowboats, yachts, coffee vans, mobile dog grooming salons or mountain huts. Roamer have provided over 800 electrical system designs for customers over the last two years and we've seen it all. Wherever you install a Roamer battery, we can help you build a system that delivers all the power you need to live and work off-grid.
Campervans and boats require a range of different components and charging methods so a detailed wiring diagrams and parts list gives you almost everything you need to get started. If its for a home solar install however, it may be more appropriate to provide a rooftop solar/battery design plus a financial feasibility report from PVSol, the industry leading solar system design software.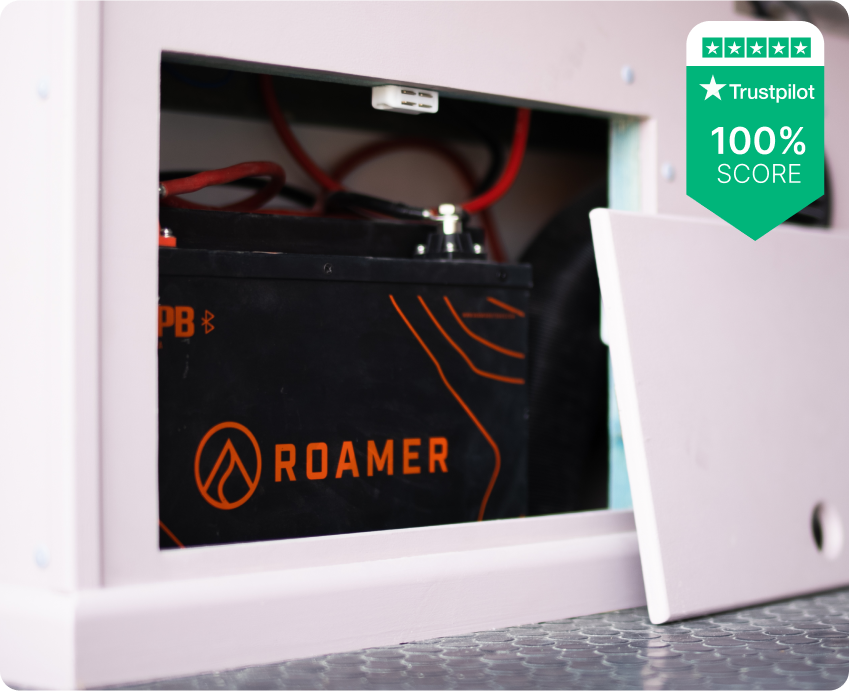 OUR FULL PROFESSIONAL SUPPORT
Supported DIY Or Professional Install
Our system design service takes out a lot of the uncertainty and stress from the electrical design process. We also aim to ensure your installation is as safe and relaible as possible so we will also provide support throughout the installation process. We can even configure chargers and inverters remotely.
If you decide you'd prefer to let a professional handle the installation, we can provide you with a fixed price quote from one of our experienced installation partners. We cover most of the UK and offer a mobile service in some areas. Prices range from £700 to £3500 depending on the size and complexity of your system and will be confirmed after the system design is complete.
All The Gear And No Idea?
Don't worry, you're not going to miss out. Even if you've already purchased your chargers and other components, we can still support you to get the best from your new battery. As part of the Roamercare service we provide a free 15 minute set-up call with one of our tech support managers who can guide you through how to install the battery safely, make recommendations on possible improvements and help you configure chargers.
VW Camper Conversion Electrical Install
"Roamer were fantastic in helping us get to the bottom of our install."
Shaun and his family from A Bus and Beyond ventured into Vanlife 10 years ago, falling in love with the concept of self contained travel and having their own bed no matter where they went in the world.
When it comes to a conversion project, Shaun isn't one to shy away from a challenge. However, when they took on the task of converting a brand new VW Crafter into their perfect 'go anywhere' campervan, he reached out to Roamer to take advantage of our Electrical System Design Service, as well as investing in one of our high capacity 320SMART3 batteries.
"Fantastic service from start to finish and the post sale backup is second to none."
First class service and a great product. Took the time to explain options around how I could wire up my camper build prior to buying the battery, then provided brilliant tech support to help me out when I experienced issues nearly two years later. Even when it turned out the problem was nothing to do with their battery! Brilliant service, great product and a really nice company to deal with. Highly recommend.
Let's face it , there are occasions when you have to buy kit, that you have no idea what you're buying. On such occasions you need a team like Roamer to guide you through. From day 1 they were helpful, informative and experienced in guiding me through what I needed and explained why.

Super helpful - Many thanks guys!
Have been in contact with Roamer and bought some batteries a while ago..

Since then they have designed a full system for my van..

Very pleased with the advice and service.. as I don't know so much at all.. so they have taken care as they are enthusiastic and knowledgeable about electrical set ups 
The personal touch. Just a quick note to say very many thanks for your service. I have only recently finished installing my electrics, according to your schematic you designed for us. I'm delighted with it. Everything works as it should, and my wife is reassured that it's been designed by a professional.