200XTREME
12V 200Ah LiFePO4
The Roamer 200XTREME with exclusive low temperature LiFePO4 cells provide consistent high power in any environment or temperature. Whether you're spending a ski season in your campervan, powering an external CCTV system or planning an arctic expedition, the 200XTREME has the technology and resilience to power any adventure.

Buy the Roamer 200XTREME and get a FREE electrical system design consultation worth £120.

FREE Roamercare with every battery – includes 15 minute kick off call to support installation.

Make 3 payments of £533.33.
Klarna.
No fees.
Learn more
Up to 4 in series/parallel
Easy 14 day returns
Not entirely satisfied? Send it back within 14 days for a money-back guarantee.
10 year warranty
That's how much we believe in our product. A decade of powered adventures.
Ongoing support
We're all about community. Reach out to us any time - we're here to help.
Throw caution to the wind, ice and snow.
The 200XTREME uses our exclusive low temperature cylindrical LiFePO4 cells with the widest usable temperature range of any LiFePO4 battery on the market. And because this powerhouse can be charged down to minus 30 and discharged down to minus 40, there's absolutely no need for cell heaters.
This battery provides an exceptional amount of power for its size - delivering a continuous charge/discharge rate of 200A. That's twice the power of most of our competitors and enough to run an inverter up to 3200W. The state-of-the-art cells also ensure stable voltage throughout the charge and discharge curve with a long lifespan of up to 3500 cycles, at 80% depth of discharge.
Come rain or shine Never stop exploring
Our XTREME batteries are expertly designed to withstand the coldest temperatures and environments. While many batteries are notoriously problematic in extreme conditions, ours perform excellently - thanks to our innovative BMS offering low temperature charge protection. Whatever the weather, you can count on Roamer to keep every moment fully charged with adventure.
Simple setup
Comprehensive power
Your adventure starts with your setup. And with Roamer, it's quick and easy. Simply choose your battery location, attach the cables, configure your chargers, and download our Roamer BMS app for real-time monitoring. Uninterrupted power = uninterrupted adventure.
We understand the prospect can be quite overwhelming so if you'd like some support, we offer an off grid electrical system design service. You will spend time with one of our experts who will give you all the tools and advice you need to install your own electrical system, even if you've got no idea where to start. From choosing chargers to cable sizing and configuring settings, we've got you covered.
The power of the Roamer 200XTREME
"Fantastic service from start to finish and the post sale backup is second to none."
My partner and I have had the pleasure of buying a battery from Roamer. Being new to the campervanning world we sometimes need all the help we can get, and the people at Roamer offer help and advice by the bucket load. Today we received help from the amazing Steve and then had a follow up call from Chris, two of the nicest people you could ever wish to speak to. We can't recommend Roamer highly enough. Their products are very well made and after sales service is second to none.
Having had an A1 buying experience with the guys at Roamer batteries, we were confident to ask for help when needed. Steve spent ages on the phone, patiently going through settings on the charge controller and advising re apps and appliance energy usage. Chris called twice later to make sure we had got the information we needed. If only all companies were as caring and thorough as Roamer Batteries, they are a top class small British business!
First and foremost Roamer batteries "do what they say on the tin". Having purchased batteries before that did not live up to their amp hour claims, this is a brand you can trust. Setting up an off grid system at home to avoid energy price increases was made a good deal easier by all the help and advice. You can always buy cheaper but I am not sure you will ever get better value for money when it comes to buying top quality batteries.
The team at Roamer are fantastic. Seriously, if you are in the market for this type of product I wouldn't recommend another company. After placing our order, Steve and Chris have been nothing short of brilliant in supporting us on delivery updates, schematic design & support, video calls, install advice... the lot. We are relative novices in this area and ask a lot of questions but the team is always there, exactly what you need from this type of purchase.
We are extremely pleased with the help we got from Steve and the crew at roamer batteries. We needed to upgrade our battery bank and they helped us out. Such a good price for what you get, extraordinary customer service and they really went above and beyond with helping us sort shipping and installing the battery. Would highly recommend it!
Been thinking about going lithium in the van and came across these guys who have some pretty sick branding. Spoke to Chris who answered all my questions and said they could design me a full system to suit my needs along with a battery! The fact that they took their time talking things through with me was the clincher, the customer service was great! Friendly and knowledgeable, I can definitely recommend these guys.
Roamer supplied the electrical design for our self build camper which saved us weeks of research and newbie mistakes, I highly recommend to anyone taking on a self build. Roamer also supplied all the electrical equipment (price matched) with telephone support fo the install - great when you have those little recommendations and questions you're not sure about. Big Fan
Compare models
Nominal Voltage (V)
12.8V
Continuous Discharge
250A
Charge Temperature
-30 to 60C
Dimensions (mm)
521L x 242W x 219H
24-100XTREME
Change model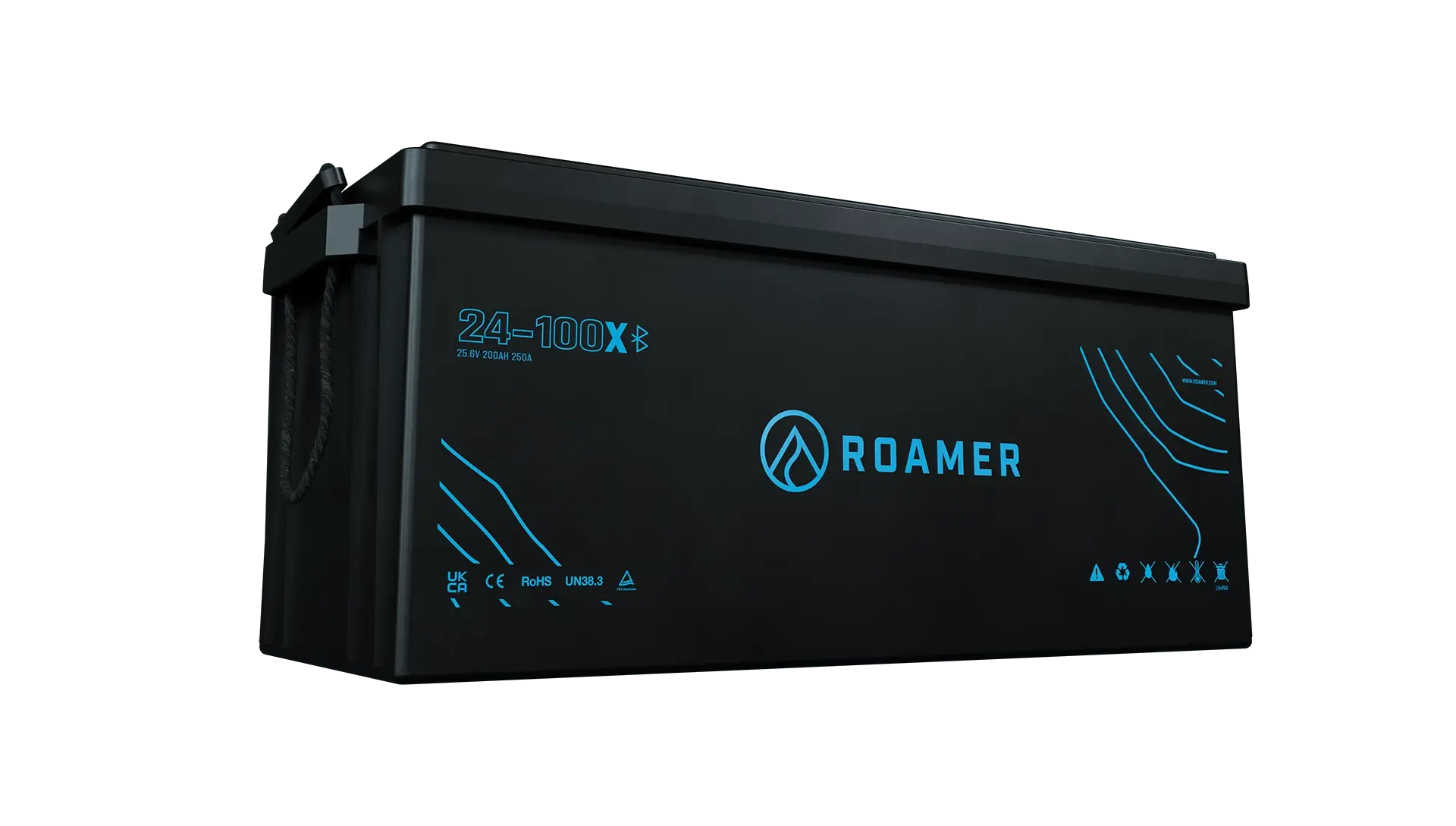 Nominal Voltage (V)
25.6V
Continuous Discharge
250A
Charge Temperature
-30 to 60C
Dimensions (mm)
521L x 242W x 219H
200XTREME
For arctic explorers
Compare
Select your Roamer model to compare
Safety First
Here at Roamer, we take safety extremely seriously and strive to make the safest LiFePO4 batteries possible. It is no secret that Lithium can be dangerous and whilst LiFePo4 is without doubt, the safest option, it is still not without risk.  And that's why we go above and beyond on both compulsory and voluntary extensive safety tests and processes. We choose to test every single battery before it leaves the factory by cycling to 100% and 0% and applying a high charge and discharge load to identify potentially faulty cells and connections, test BMS performance and verify cell balance at the top and bottom of the voltage-charge cycle. Our SMART3 batteries use only traceable branded cells from reputable manufacturers with lab test reports to verify battery safety as part of the EN 61619 certification. Finally, our product and fulfilment services also meet the courier requirements to ship Dangerous Goods under the UN3480 certification. Find out more about the steps we have taken to ensure maximum safety here.
Bluetooth enabled
Less wondering
More wandering
Know your power with the all-new Roamer BMS App - the ultimate wingman for uninterrupted adventure. It's easy to use, connects via Bluetooth, and lets you track and monitor the status of your battery from the comfort of your van, boat, or home. Real-time feedback at your fingertips.